DISCOVERER AT3 XLT
All-Terrain
■ The pursuit of ultimate durability
■ Designed to prevent cutting and chipping on rocky and gravel terrain.
■ Use rugged Traction Shoulders to prevent cutting
■ Demonstrates solid braking power even on snowy roads
   3 Peak Mountain S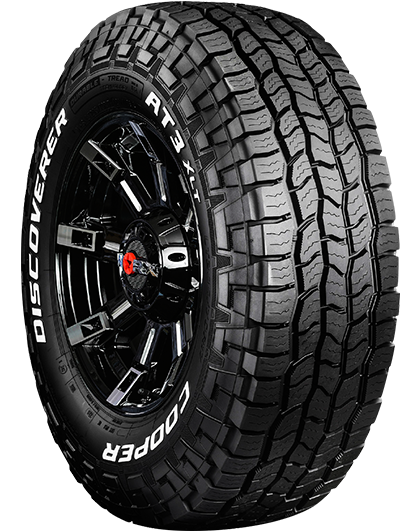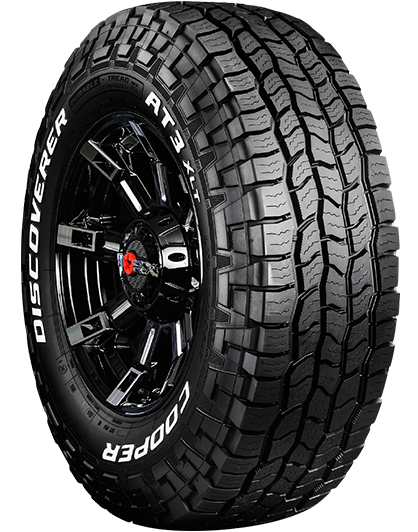 PRODUCT INFORMATION
① EVEN WEAR ARC TECHNOLOGY™
Tire shape engineered to strategically balance pressure at the tire-to-road contact area promoting even on-road treadwear and superior handling.
② WHISPER GROOVES™
The Whisper GroovesTM provides a sound barrier that reduces road noise.
③ STONE EJECTOR LEDGES
Ledges that easily eject stones and gravel, helping to prevent tire damage from stones. Also, helps maintain a clean tread for enhanced road traction.
④ RUGGED TRACTION SHOULDERS
Rugged traction shoulders provide increased off-road traction for boulder crawling and mud handling as well as additional resistance to abrasion and punctures.
SIZE
15
Size

Load Index & Speed Rating

Rim width

Approved Rim Width

Max.(kPa)

Max.Load (kg)

Side letter

31X10.50R15LT

109R

8.5

7.0-9.0

300

1030

RWL

32X11.50R15LT

113R

9

8.0-10.0

350

1150

RWL

33X12.50R15LT

108R

10

8.5-11.0

250

1000

RWL
16
Size

Load Index & Speed Rating

Rim width

Approved Rim Width

Max.(kPa)

Max.Load (kg)

Side letter

LT305/70R16

124/121R

9

8.0-9.5

450

1600/1450

RWL

LT285/75R16

126/123R

8

7.5-9.0

550

1700/1550

RWL

LT295/75R16

128/125R

8

7.5-9.5

550

1800/1650

RWL

LT315/75R16

127R

8.5

8.0-10.0

450

1750

RWL
17
Size

Load Index & Speed Rating

Rim width

Approved Rim Width

Max.(kPa)

Max.Load (kg)

Side letter

LT285/70R17

121/118S

8.5

7.5-9.0

550

1450/1320

RWL

LT295/70R17

121/118R

8.5

7.5-10.0

550

1450/1320

RWL

LT305/70R17

121/118R

9

8.0-9.5

450

1450/1320

BLK

LT315/70R17

121/118S

9.5

8.0-11.0

450

1450/1320

RWL

LT285/75R17

121/118S

8

7.5-9.5

550

1450/1320

BLK

37X12.50R17LT

124R

10

8.5-11.0

350

1600

BLK
18
Size

Load Index & Speed Rating

Rim width

Approved Rim Width

Max.(kPa)

Max.Load (kg)

Side letter

LT325/60R18

124/121R

9.5

9.0-12.0

450

1600/1450

BLK

LT285/65R18

125/122S

8.5

8.0-10.0

550

1650/1500

RWL

LT305/65R18

124/121S

9

8.5-11.0

450

1600/1450

BLK

LT325/65R18

127/124R

9.5

9.0-12.0

450

1750/1600

RWL

LT265/70R18

124/121S

8

7.0-9.0

550

1600/1450

RWL

LT275/70R18

125/122S

8

7.0-8.5

550

1650/1500

RWL

LT295/70R18

129/126S

8.5

7.5-10.0

550

1850/1700

BLK

LT285/75R18

129/126S

8

7.5-9.5

550

1850/1700

BLK

35X12.50R18LT

123R

10

8.5-11.0

450

1550

BLK
20
Size

Load Index & Speed Rating

Rim width

Approved Rim Width

Max.(kPa)

Max.Load (kg)

Side letter

LT275/55R20

120/117S

8.5

7.5-9.5

550

1400/1285

BLK

LT285/55R20

122/119R

9

80-10.0

550

1500/1360

BLK

LT305/55R20

121/118S

9.5

8.5-11.0

450

1450/1320

BLK

LT265/60R20

121/118R

8

7.5-9.5

550

1450/1320

BLK

LT275/60R20

123/120S

8

7.5-9.5

550

1550/1400

BLK

LT285/60R20

125/122S

8.5

8.0-10.0

550

1650/1500

BLK

LT295/60R20

126/123S

8.5

8.0-10.0

550

1700/1550

BLK

LT325/60R20

126/123R

9.5

9.0-12.0

450

1700/1550

RWL

LT275/65R20

126/123S

8

7.5-9.5

550

1700/1550

RWL

LT285/65R20

127/124S

8.5

8.0-10.0

550

1750/1600

RWL

35X12.50R20LT

121R

10

8.5-11.0

450

1450

BLK